Unity Installation
From sine.space Wiki
The current recommended version is now 2017.2.4
Downloading Unity
For Windows - Download Unity 2017.2.4 -  Here

For Mac - Download Unity 2017.2.4 - Here

For Linux  - please use 2017.2.1 from this forum thread.

Installing Unity for MAC
When Unity has finished downloading, click Run to start the installation.
1. When the Unity Installer window opens, click Next
2. After that, accept the terms and conditions and click Next
3. You will then see a screen called Choose Components. You will need to choose the following components from the list:
Unity 2017.2.4
Documentation
Windows Build Support
All other components are optional (but can be installed if you want):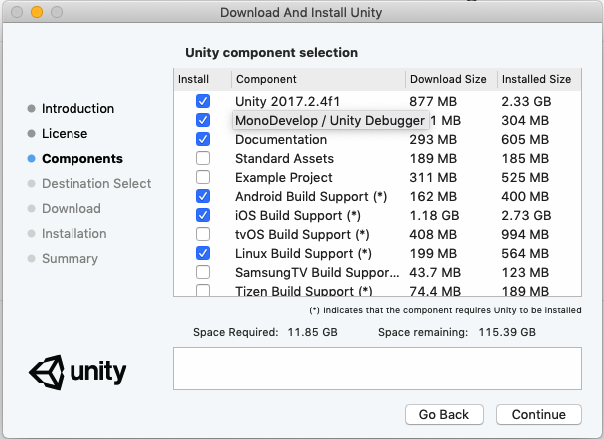 4. After selecting these, click Next and choose your installation location.
This will start the download and installation process. Once finished, Unity will be installed.
Content Creation Portal
Common
Vehicles
Gestures
Humanoid Animation
Clothing
Region Creation
Quests
Games
General Info
Customisable Regions
Scripting
Creator Support