How to Make Basic Clothing In Blender
From sine.space Wiki
How to make a Basic T-Shirt
This tutorial does require knowing the basics of Blender
To make a simple t-shirt, first import the Space avatar into Blender. You will need this when modelling the clothing to fit it properly.
Once you have the avatar in the scene, you can start modelling your t-shirt.
Select the Areas for the T-Shirt
First, select the parts of the avatar you think a t-shirt would sit on the body. After you have selected it, it should look something like this: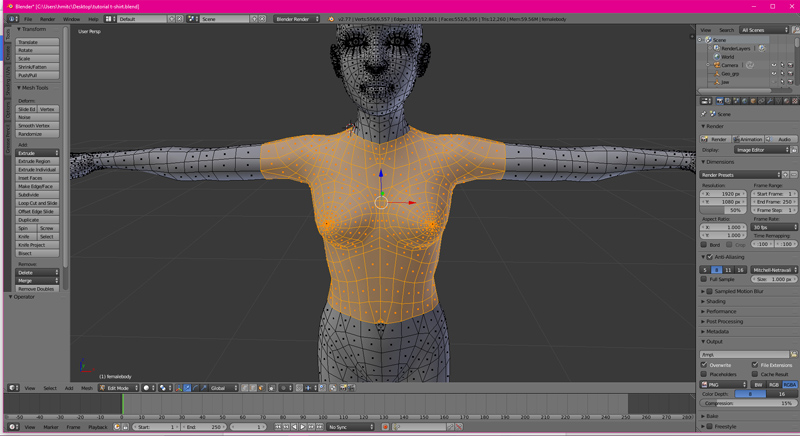 Duplicate the Mesh
Once you have it looking like that, you can duplicate it. Duplicating it will copy the mesh areas you selected to give you the t-shirt shape.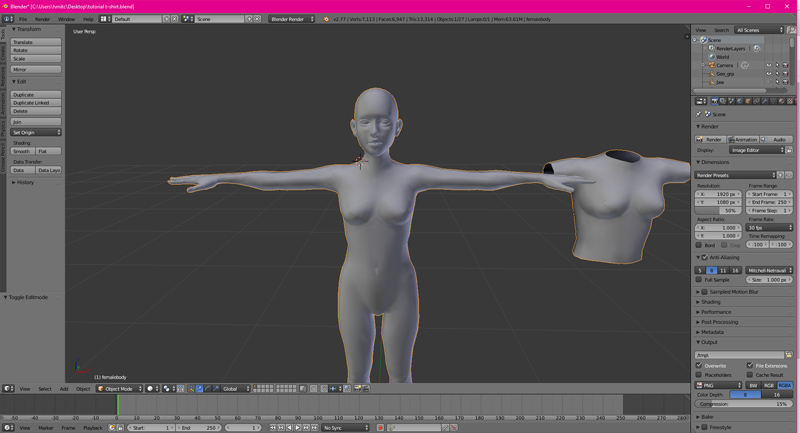 Separating the Mesh
Duplicating will not make it a separate mesh, so to make it a standalone mesh, you will need to separate it.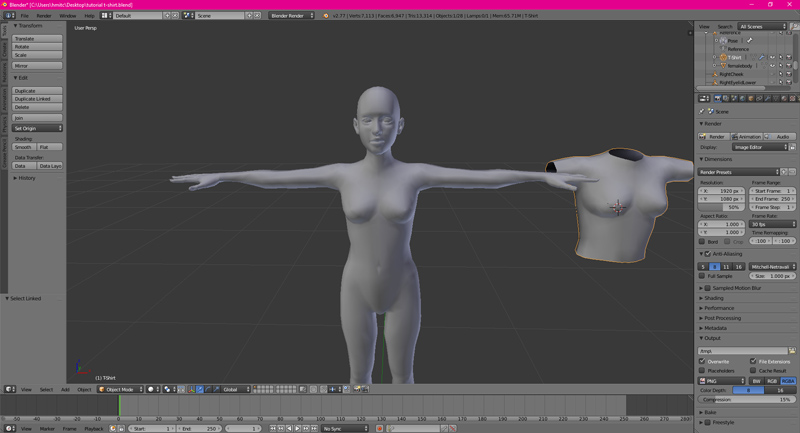 Now you can see that the t-shirt shape is outlined. That's because it is now a separate mesh from the avatar. You can rename this as 'T-shirt' to make it easier to find in the hierarchy and also easier to export when it's finished.
Scaling the T-Shirt Mesh
If you move the t-shirt back over the avatar, you will see it intersects with the avatar. You need to scale the t-shirt so it is slightly bigger than the avatar so it doesn't show any of the avatar mesh. Make sure none of the avatar is showing through the t-shirt mesh. If you need to, you can change the t-shirt colour to make it easier to see if the avatar is showing through.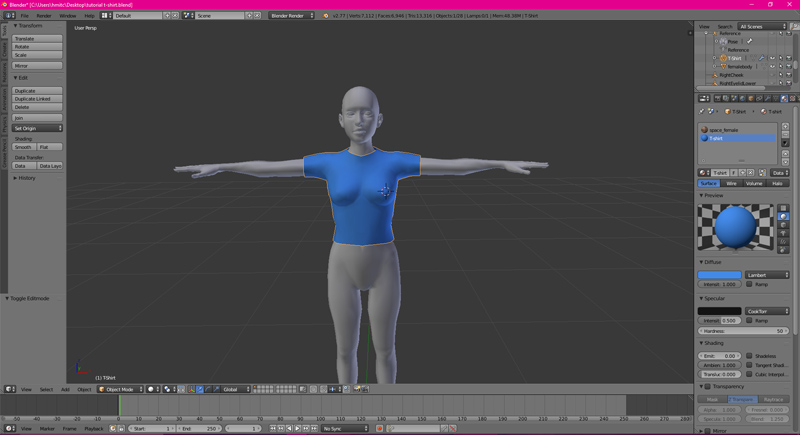 Fitting the T-Shirt
If you find areas of the t-shirt that you think aren't fitting properly, you can adjust these separately. I didn't like the way the collar looked, so I moved it closer to the avatar's neck. If you want to make the t-shirt a bit longer, you can extrude it, and to make it look more like clothing, you can add a subdivision modifier to it.
Finalising your T-Shirt
You can make all the changes you want to the t-shirt and get it ready to export. T-Shirts and vests and other simple clothing should be 1200 polys or less. You can use normal maps and tessellation to make the low poly items look as good as high polys.
You can export the t-shirt from your 3D program as an obj file to import into Unity.